Thanksgiving Recipes
According to YouGovAmerica, the most popular Thanksgiving foods are turkey at number one, mashed potatoes at number 2 and stuffing at number 3.  These traditional foods have been around for many years carrying on traditions.  The first Thanksgiving was in 1621 and that is where the tradition started.  It is believed that during the first Thanksgiving the Pilgrims brought a turkey to the dinner and the legacy is still going.
There are many different ways to make turkey.  Everyone likes it different, but here is the most popular turkey recipe. 
Step 1: Let turkey sit at room temperature for 30 minutes: Preheat oven to 350

Step 2:

Remove the neck and giblets from the turkey. Pat the turkey very dry with paper towels and rub inside and out with salt and pepper. Stuff the cavity with the onion, carrot, celery, and sage and thyme sprigs. Tie the legs together with kitchen twine. Put the turkey on a rack set in a large roasting pan and tuck the wings under the body.

Step 3: Melt the butter in a small saucepan over low heat; whisk in the paprika and chopped sage and thyme. Let the paprika butter cool slightly, then brush all over the turkey. Transfer to the oven and roast 1 hour.

Step 4: After the turkey has roasted 1 hour, baste with the drippings. Continue roasting, basting every 30 minutes, until the skin is golden brown and a thermometer inserted into the thigh registers 165 degrees F, about 2 more hours

Step 5:Transfer the turkey to a cutting board and let rest 30 minutes before carving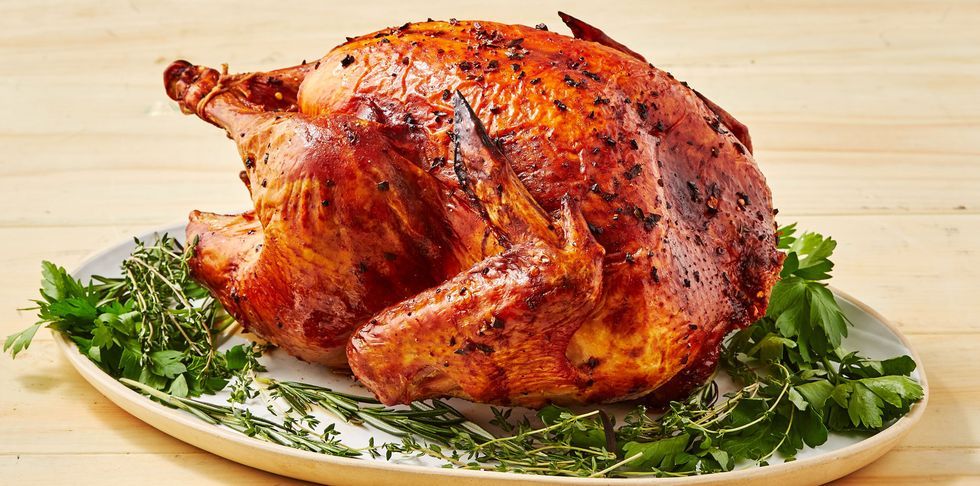 The second most popular Thanksgiving food is mashed potatoes.  Mashed potatoes didn't come about until the 17th century but now you'll see them at almost every Thanksgiving dinner.  There are different types of mashed potatoes.    Here is the most popular mashed potato recipe.   
Step 1: Get a blend of potatoes.  Some people like certain potatoes but blending a bunch of different ones together taste amazing.  

Step 2: Wash your potatoes.  Avoid waterlogging them because that can be your enemy in making mashed potatoes. 

Step 3: Cut your potatoes before boiling. This will cause the boiling to be quicker but don't overboil them.  As soon as a dinner knife can poke through it, it is time to take them out.

Step 4: Once you've drained the potatoes put them back into an empty pot with the burner on low.  Put the lid on the pot and shake for about a minute.

Step 5: Add butter, milk and cream cheese to the pot of potatoes and mash.  Mix it until it turns into the texture you want but avoid mixing too much because it will turn into a liquid.